Hola everyone! I've wanted one for years, but never pulled the trigger to actually buy one.
Here it is - TA DA!
But on January 13, 2018, after years of dithering should I or shouldn't I because I still own two perfectly fine coffee tables, I finally decided to do some online shopping to see if I could find a good bargain on a nice looking round tufted ottoman that would be large enough to serve as a footstool and as a coffee table.
I checked lots of different websites, so many I can't remember them all, including Overstock, Wayfair, Joss & Main, Google Shopping, etc., looking for the best deal. I tend to do overkill always looking for a few more dollars off. Below are just some of the sites I visited and what I found.
Joss and Main
: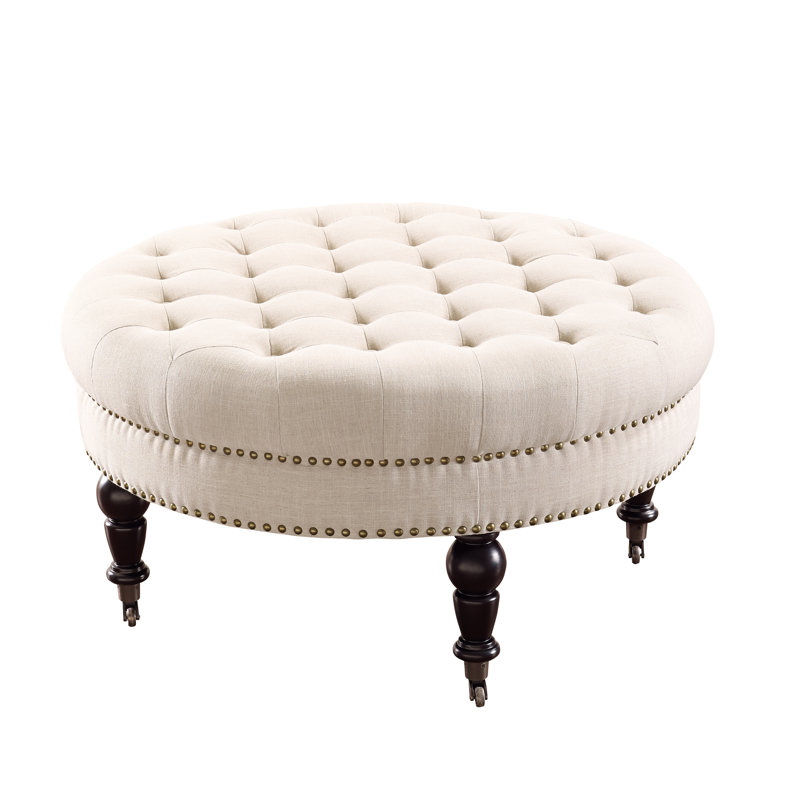 Ravi Tufted Ottoman 34.6" diameter, 18.13" height, black turned wood legs with metal casters, in "Natural" linen (polyester blend), sale price $327.99; regular price listed at $452.99
I really liked this ottoman. It was a good height to go with my sofa and wing chairs, and I was looking for a color as close as I could get to the creamy/natural color of those pieces. My sofa is a modern Tuxedo style tufted (without buttons) in a solid linen-look creamy colored fabric, and my modern-style wing chairs are covered in a large modern floral print in tones of charcoal, grey, and taupe on a creamy colored background linen-look fabric. I also loved the "lux" details of the turned wood legs in a dark finish (mine look black), the burnished metal casters, and the double row of burnished metal nailhead trim. The nailhead trim matches that on my dining room chairs and table. Since the rooms are open to each other, I want my decor to flow and relate from room to room without being matchy. These details add to the cohesion of the two rooms.
But I didn't want to pay $328 on sale for the ottoman. I was looking to keep my budget as close to $100 as possible. Yeah, cray cray. But I kept at it, shopping to see if I could find THIS ottoman or one similar enough that I could do a convincing "look for less." Way less.
Here are some of what I found:
Home Depot (Canada)
:
Linon Home Decor Products
Linen Round Tufted Ottoman 34.63" diameter, 18.13"height, black turned wood legs with metal casters, in "Natural," $234.00. (I wasn't sure if I'd be able to buy this from Canada without paying a duty tax or what shipping charges would add to the cost.)
Bed Bath & Beyond
:
Isabelle Round Tufted Ottoman, 34.6" diameter, 18.13" height, turned wood legs with metal casters, linen-look material, $219.99.
Houzz
:
Identical looking to the three ottomans above, Isabelle Round Tufted Ottoman, 34.6" diameter, 18.13" height, dark Espresso finished legs, "natural linen" upholstery, $159.99 on sale, regular price $460.99.
Also found at
Target
for $230.99 ("beige" fabric color) and
Amazon
for $135.99.
Then I remembered some commercials I've been seeing on streaming live television - check eBay! And so, I did. Lo and behold, I hit a winner.
I ended up purchasing what as far as I can tell is an identical ottoman at
eBay
. Although now the price at the eBay vendor I purchased my ottoman from is listing its price at $129.95, I paid $119.95 and got free shipping (many of the sites above also offered free shipping). The eBay dimensions are a bit smaller than the Joss & Main "Ravi" ottoman, ebay stating the diameter as 33 1/2" and height as 17 3/4", linen fabric in "beige."
I unboxed it yesterday evening after it sat in my kitchen for a few days. Assembly was easy, just opening up the velcro lining flap on the bottom of the ottoman to pull out the legs and then screwing them into place in pre-drilled holes. The piece is from Belleze Furniture Company.
I am in love love love! The height is perfect. The product was in perfect condition when I unboxed it and just as pictured. The color is just a pinch darker than that of my sofa but really not noticeable unless you're looking for it.
I finally got my wee little bit of lux for a truly bargain price and am thrilled. Now I just have to lug my heavy wood coffee table to the basement without killing myself. But I'm going to take a nap first to gin up my energy level again; I shoveled first thing this morning because we had 3 inches of wet heavy snow dumped on us overnight. UGH!