I will be rearranging the living room soon in preparation for bringing up the Christmas tree from basement storage after Thanksgiving.
One of my close friends has a birthday on November 23rd and I always treat her - and myself - yearly to a night out to see a show at one of our local theatre venues and have a nice dinner. And then we go to Candy Cane Lane and join in a parade of cars driving slowly through about a 6 square block area of a local neighborhood where the neighbors decorate their houses for Christmas to raise funds for the MACC Fund (Milwaukee Area Childrens' Cancer Fund). They have raised hundreds of thousands of dollars over the past many years. That's how I kick off my Christmas season. This year we're going to see the stage play "Miss Bennet: Christmas at Pemberley" at the Pabst Theatre downtown. I love all things related to Jane Austen, including off-shoots by other authors from her work. I am really looking forward to seeing this play! It's gotten good reviews and who can resist a story about one of the most neglected of the Bennet sisters - Mary!
Not sure why, but for some time now I've been stewing on the idea of using some red in my living room decor for the first time. I have used my red cardinals and red/black/green plaid ribbons, of course, in my kitchen and dining area for decor, but the living room and tree have been decorated primarily in gold, silver, sparkles and glass.
So, I made some modest purchases -- two rich red colored throw cushion covers for the sofa and a chunky knit faux-fur trimmed throw blanket to add to the room for snuggling before the fireplace.
Here is one of the throw pillow covers I scored online from
Bed Bath & Beyond
Manhattan Square Throw Pillow Cover in red ($14.99). It's soft and silky feeling with a nice sheen to it.
The second throw pillow, also from Bed Bath & Beyond and also $14.99,is a red velvet with a gold quilted diamond pattern, plush, lush, soft, lux: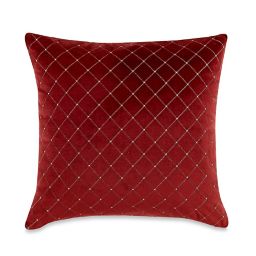 Here is the
Nina Campbell throw blanket
I scored at Steinmart for 50% off:
I am loving this throw! It is super-soft and chunky and warm! It is a deep red but not burgundy, called "Chili Pepper."
Speaking of the fireplace, I had my first fire of the season yesterday. It was raining, super-windy, damp and dark out all day and I felt chilly in the house although the heat was kicking in on a regular basis. So I had a 2-can gel fuel fire and it was glorious! It lasted for 2 and 1/2 hours as I sat in one of the wing chairs in the living room with my feet up enjoying the flames and and crackling - because it's actual fire burning in the fireplace behind the faux logs and the real fire screen, and the room warms up. Lovely!
Back to the red - I have my nearly 30 year old red and black "Oriental" pattern wool rug to bring up from basement storage for the holiday which this year will be layered over the black and cream chevron pattern area rug in the living room. The red/black Oriental traditional pattern is a 5 x 7 and much smaller than the 10 x 12 black and cream, so there will certainly be some contrast there! But I think it will work, and if it doesn't I won't care, as to me decorating is intensely personal and not about appealing to an audience. I've used the rug in this retirement version of Maison Newton before - in the dining area. No photos of it on this computer, it will be a "surprise."
I'll probably add some red plaid French ribbon to the Christmas tree decor this year, too for some red color on the tree. I can get it at the Family Dollar for $5 for a large roll. I do believe I even have a few (a very few) red ornaments but I'll have to unbury them from boxes of Christmas decorations in the basement!
Stay tuned.