Hola! I'm sorry I haven't been here to continue to the end of the May 2019 HGTV Magazine cover. In between rainstorms here (which should have come in April, but we were still getting snow and freezes in April), I've been running out when weather permits to continue what seems this year to be a never-ending process of yard clean-up! Geez Louise, is there the stuff to clean up. I've lost count of the number of garden waste bags I've backed to about over-flowing so far, and there is still more to go.
As a reminder, here's the article:
The Striped Painting
The art piece on the cover is an original painting by Gina Julian. She offers some prints for $150 each, and HGTV chose one of those prints for their copy of the original painting (one of a kind, no print available). I figured I could find something that would cost less than $150. It's not that I don't appreciate art, or art prints, but the pocketbook can't afford it! There are lots of striped prints, original artwork and posters available, but I was attempting to limit the choices to a square painting (like the original and the HGTV pick) with most or all of the colors in either the original painting or the HGTV pick. I also wanted something as inexpensive as possible, not wanting to pay $150 for a framed print.
I found this happy, cheerful
striped canvas at Etsy
. The 16" x 16" size (same size as the print chosen by the HGTV team) is $44! The 24" x 24" size goes for $55. It's a different style of stripes from the original painting and the Gina Julian print, but the colors are similar. Pictured below:
I found this colorful alternative at icanvas.com,
Colorful Stripes II, Canvas Print, by Mareike Bohmer
. It comes in several alternatives. An 18" x 18" unframed canvas print is $50; 26" square is $77. A framed 18" square canvas print in your choice of 4 different colors of frames (no red or white frames offered) is $77. There are also framed print options in 16" square and 24" square sizes for more money. The stripes are not geometrically precise as in the original painting or the HGTV pick, but the color tones are spot on. Pictured below:
Since these options are square, they can be hung so that the stripes run either vertically or horizontally!
An alternative version in a rectangular shape (18" x 26") unframed also at icanvas.com by the same artist (
Mareike Bohmer, Colorful Stripes IV Canvas Art
) is $56. Framed canvas and framed prints in various sizes are also available. Pictured below:
The Dog Figurine
The original "Standing Welsh Terrier" by Urban Trends is so cute! But I thought it was also a bit pricey at $45. It's also on the larger side, being 7" tall and, frankly, to my eye it looks out of proportion size wise with the white vases it's next to on top of the credenza.
I had fun hunting for what I call a "Scottie dog." And I found a few. I found several rather small (a couple of inches tall) for good prices at Etsy and Amazon, and vintage options at e-bay, but I thought they were a bit too small. Below are my picks:
From Amazon, this cutie, a
Black Scottish Terrier by Kotobuki Ceramics
, size approximately 5.2" high, 6.75" long, and 2.2" wide, for $34 plus free shipping. You could spray paint him turquoise or aqua but I like him just fine in black. Pictured below:
From
Etsy, this looks to be the identical dog
to the Urban Trends turquoise Terrier, only in white - it is even the identical size (8.5" long x 3.5" wide x 7" high) - for a much lower price of $13 (12.49) (shipping separate), pictured below: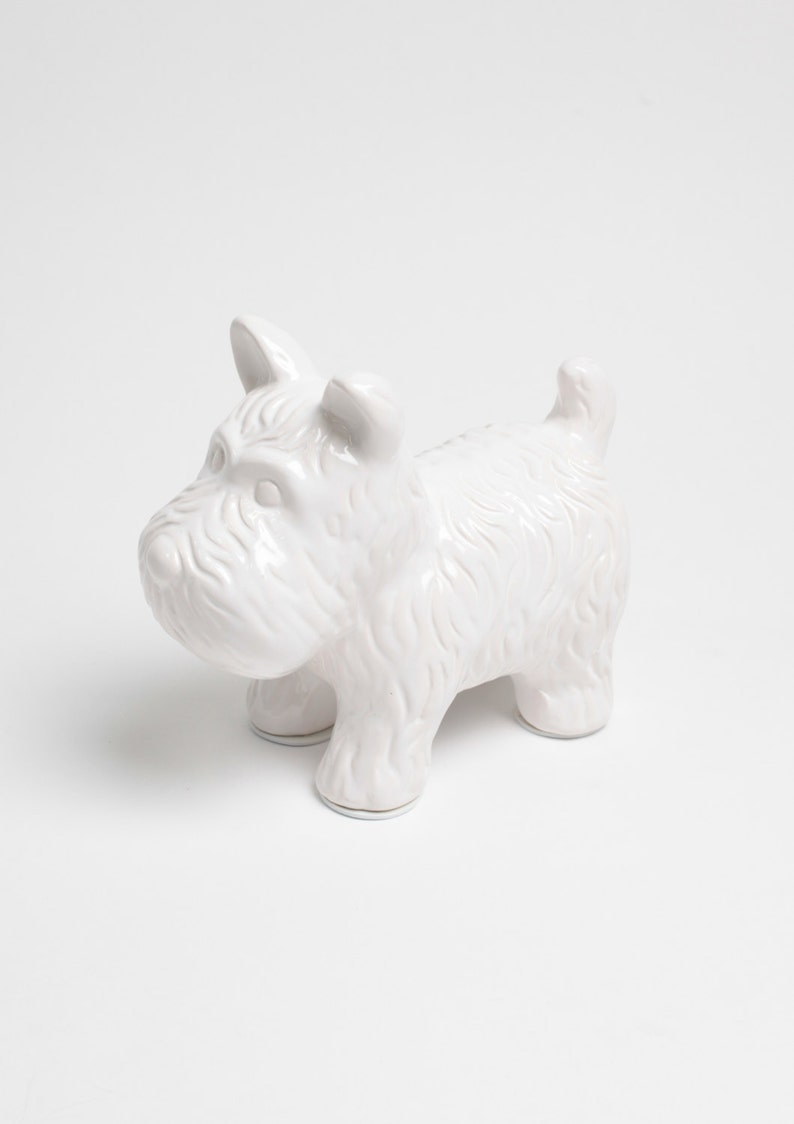 From e-bay, here's an option in a planter version - how cute would he be with a small air plant or artificial succulent "planted" in him! Described as
Vintage Scottie Dog Ceramic Planter
, he measures at 7" high x 7.25" long x 3.4" wide, for $7, but shipping is $15, so total cost (rounded up to nearest dollar) would be $22. Pictured below, he could be spray painted to turquoise or aqua (or black):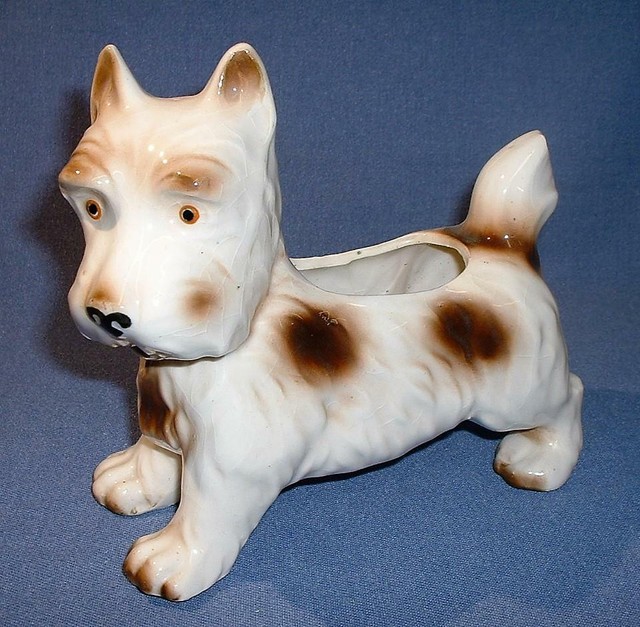 What's left? The vases - including a couple that HGTV didn't include in their "copy the cover" article, and the little bowl. Stay tuned.